We host these families twice per year in the fall and in the spring for a week at a time.
Fourth Presbyterian is again hosting for a week from October 20th to the 27th. We need volunteers for this local mission to show justice, love kindness, and walk humbly.
Our volunteers spend the night at the church, bring a meal, and help us set up the bedrooms and tear them down after the week is over.
Sign up links are now live!
Click the Sign Up Genius button below to view!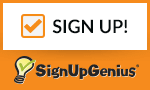 Contact Lucy Pulliam at (864) 630-0099 or lucy.pulliam@gmail.com to learn more about this ministry.