Twice a year, in partnership with United Ministries and IHN (Interfaith Hospitality Network), our congregations hosts families experiencing homelessness. We provide overnight accommodations, meals, and fellowship. It takes many volunteers to make this important work happen. Our next IHN week is February 2-9, 2020.
To see how you can serve, visit the Sign Up Genius below.
Click the Sign Up Genius button below to view!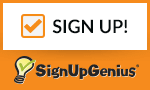 If you have any questions, please contact Rev. Jackie Putnam at jackie@fourthpres.com or 864-232-8123.